Unfortunately, tree trimming is an often underestimated task that homeowners take on and end up doing more damage than good simply because they are uninformed. Trimming is usually need not only to improve the outlook of the tree, but for safety and healthy reasons too. Death branches can easily break upon the weakest wind. They also continue to consume water and soils, and take the "food" of the living ones. That usually cause for the tree to under develop. Regular pruning can also greatly increase the storm resist of your trees. You must trim regularly your trees in order:
to improve its look
to improve its health
to make it more storm resistant;
to prevent obstructing the power lines
to prevent rotting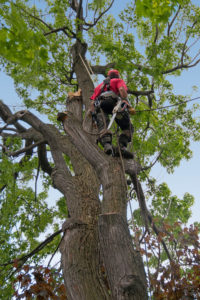 Whatever the case is we carefully choose the appropriate combination of techniques to get your job done. We have the tools and the knowledge which makes us unparelled experts in the tree industry. And while we are at your yard we can take care even of that ugly stump defiling the corner of your beautiful garden. Our trimming and stump removal services are one of the top in the entire Vineland county. Choose us and let us lift at least one chore from your busy life.